To "get yourself out of the way", remember growth is a natural process.
You can delay it and make the learning curve rougher by worrying, controlling too much and getting tripped up inside – or the other things we humans sometimes do – but growth IS inevitable.
What if you knew and deeply trusted that growth was inevitable –
Yours and your loved one's?
Adults watching a baby learning to walk know this.
When the child falls down, they console her.
If she reverts back to crawling for a while, they are patient.
They know she will lose her balance at times, so they create safe surroundings for her to learn.
They celebrate her every successful step.
I am watching a loved one grow. I am trusting that her growth is inevitable. This gives her a safe place for to grow- in her own way, in her time – when she is with me.
I can do this because I have faced my fears about her current behavior and situation, sifted through my fearful thoughts and got crystal clear and focused on the picture of what I would love to see for her on the other side of her challenge. I used the Clear Inner Focus Tool (C.I.F.T.) Found in Flip Your Focus to do this.
My clarity supported me in leading strong conversations and letting go of what happens next. It supported me in being patient and trusting of her inevitable growth.  And, it supported me in hiring help to support me in making sure I was not overstepping or under stepping my bounds.
When her "personal earthquake" (a seemingly negative structure -of- life changing event) happened, I knew, trusted and responded with a genuine, "Oh good, growth is coming because of this," response. I can't wait to see what happens next.
I've seen the above steps support me in supporting others many times. It supports me in being part of the cure not part of the disease.
I have seen this process support me in supporting myself in the growth of my own desires, too. Countless stories of miraculous results have ensued in my own life, the lives of my loved ones and the lives of my clients and students because of this process.
What are you growing through? Are you treating yourself as kind as an adult treats a child who is learning to walk?
Do you have your sights set on the destination you want on the other side of life's challenges?
I hope so! If not, I can help you get yourself there.
LOVE!
Patty
_______________________
Flip Your Focus is available on Amazon.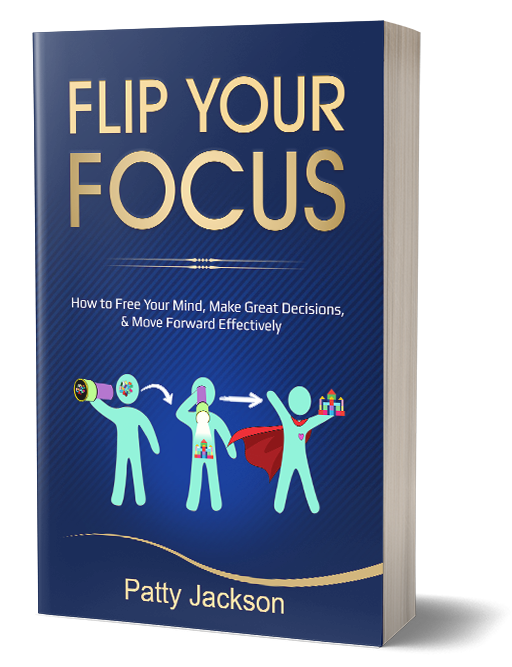 Amazon Reviews: 
KM
5.0 out of 5 stars Absolutely LOVE this book!
Reviewed in the United States on December 26, 2019
Format: PaperbackVerified Purchase
Simple tips. Examples that are easy to understand. Reminders to love ourselves! This book is full of things we should be practicing daily! This is a must-read! Favorite quote, " remembering your inherent value, whether or not you achieve your next goal". New favorite read and one I will keep close.
Maeve Englander
5.0 out of 5 stars Flipping Out for Flip Your Focus!
Reviewed in the United States on February 7, 2020
Format: PaperbackVerified Purchase
I just read this book in two days. Patty Jackson is able to take extremely complex human behavior and simplify it into clear actionable steps one can take to change their lives for the better. There's something very friendly about the book, too. One feels as though Patty is right there with you in your corner rooting for you and making you feel it will all be ok no matter what!
Not subscribed to our weekly emails yet? You can here.