To love big and connect big mandates a need for healthy boundaries. 
I spent the weekend with a friend who had a cold. She was concerned we were going to catch it.
Spending time with anyone puts you at risk of 'catching' whatever they have. You might catch their fun, love, mannerisms, ideas, attitudes — and angst.
It is important to be able to know how to separate from others and re-focus on your own responsibilities, fun, love and ideas, too.
Today's tool helps you define healthy boundaries so you can stay true to yourself and be your best self with others. Jump right in with the tool or keep reading and catch the tool at the end.
My oldest kids are 22 and my parents, siblings and friends are very successful, capable people, yet sometimes I see their challenges and begin thinking about how they should solve them (even though they are not asking for my help). Oops! If do, I drain my energy with the worry and powerlessness that comes from focusing on things that are out of my control. Talking to them from that focus will deliver words backed with my angst. This is never helpful and often adds to both of our angst.
We are human, and this is all normal human stuff.
Being willing to learn and grow forward makes life, love and people stuff infinitely easier and more fun!
Sometimes loved ones ask for help. Sharing ideas from your heart, and then letting go and not continuing to 'work on their problems', worrying if you said the right thing or if they will follow through on what you discussed is the key.
The Define Your Lane of Responsibility Tool can help you do this.
It helps you listen to others with proverbial ears on your heart, enabling you to think things like: 
"They've got this. If there is something I can say that will be helpful, let it come tumbling out of my mouth, in the right time, with the right words."
Having confidence and clear boundaries is contagious.
It helps you experience:
Deep meaningful conversations

Energy as you listen to others

Confident responses

The thrill of seeing growth in yourself and in others
You've got this!
LOVE!
Patty
_______________________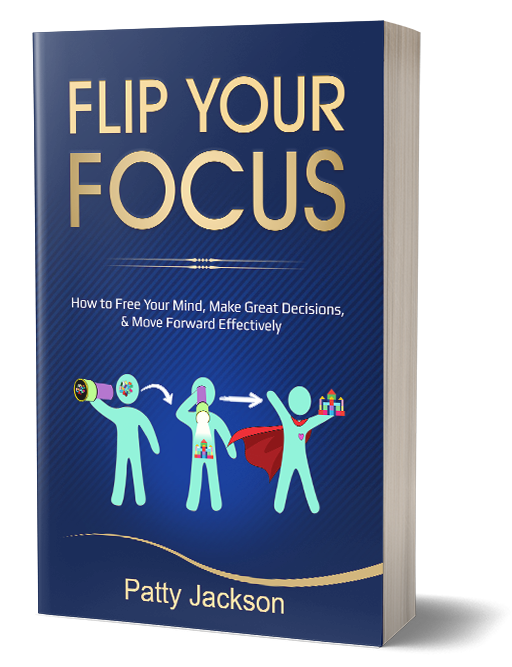 Amazon Reviews: 
KM
5.0 out of 5 stars Absolutely LOVE this book!
Reviewed in the United States on December 26, 2019
Format: PaperbackVerified Purchase
Simple tips. Examples that are easy to understand. Reminders to love ourselves! This book is full of things we should be practicing daily! This is a must-read! Favorite quote, " remembering your inherent value, whether or not you achieve your next goal". New favorite read and one I will keep close.
Maeve Englander
5.0 out of 5 stars Flipping Out for Flip Your Focus!
Reviewed in the United States on February 7, 2020
Format: PaperbackVerified Purchase
I just read this book in two days. Patty Jackson is able to take extremely complex human behavior and simplify it into clear actionable steps one can take to change their lives for the better. There's something very friendly about the book, too. One feels as though Patty is right there with you in your corner rooting for you and making you feel it will all be ok no matter what!
Not subscribed to our weekly emails yet? You can here.